At pivotal moment for climate, two Michigan marches seek action, justice
Two landmark marches for climate justice are coming up in Michigan.
First up is the West Michigan People's Climate March in Grand Rapids, organized by the West Michigan Environmental Action Council—an MEC member group—and many partners. It begins at 12:30 p.m. this Saturday, Sept. 19, at the Sixth Street Bridge Park. To learn more, register or make a donation, click here.
Then, on October 3, people from across the state will travel to the Detroit March for Justice. That two-mile march from Roosevelt Park to Hart Plaza will begin at noon and wrap up around 4 p.m. RSVP for the Detroit march and find out more here.
The Detroit march is being organized by the Sierra Club and dozens of partners, including MEC and many of our member groups. The new Michigan Climate Action Network is mobilizing people from around the state, including organizing a bus from Traverse City.
We will march for environmental justice because those least responsible for pollution often suffer the worst consequences, such as in southwest Detroit, home to Michigan's most polluted ZIP code, where many residents suffer from asthma and cancer. Families often cannot afford to move to escape pollution from the Marathon oil refinery, toxic coal plants and other industrial facilities built near their homes.
We will march for climate justice because poverty makes it harder for people to adapt to heat waves and recover from extreme weather events. This is true in Detroit, where thousands are still recovering from last year's floods, and around the world, where the poorest countries are suffering the worst impacts of a changing climate.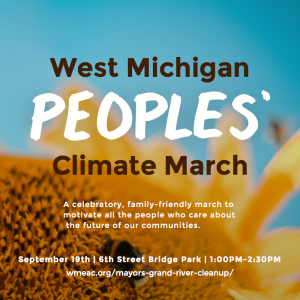 We will march to demand a better future, one where everyone has access to clean air, affordable drinking water, a living wage and a livable climate. We will march because we refuse to be good people who do nothing in the face of injustice. We will march so we can tell our children that we took the time to fight for what is right.
We will march because at times in history mass mobilizations have been the very thing that was needed to make change. And these marches are happening at a pivotal time.
This summer Pope Francis issued a moral call to action on climate change with a focus on justice, and next week he will visit the U.S. and make a historic speech to Congress, a body that could do so much to address climate change. His visit comes just months before world leaders come together in Paris to try for an international climate agreement. Some island nations and other countries most vulnerable to climate change say these talks are their last chance for survival.
In Michigan, we've reached the target of 10 percent renewable energy called for by state law, and the Legislature is debating what comes next. We've seen that renewable power is affordable, reliable and a strong driver of economic growth. Now we need to build the political will to deepen our state's commitment to clean energy.
There is much work being done in Detroit and across Michigan to address these and many other injustices. At the March for Justice we will come together to support each other's work, learn from one another and see just how many people are fighting for justice. We will march because justice is connected and together we are stronger.
One year ago, nearly 400,000 people marched in New York City to call for action on climate change and justice in a powerful and historic event. Now we will raise our voices again, this time in our home state, and march for justice.
See you there!
###
Coming from Northern Michigan? Reserve your seat on the charter bus. Save gas and make friends. There will also be buses from Grand Rapids, Lansing and Ann Arbor.