On retirement day for some old coal plants, bad state policies keep others limping along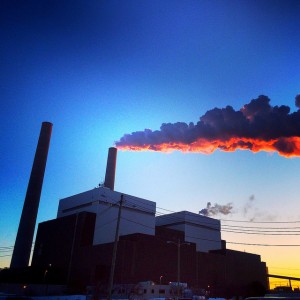 You may have noticed a lot of news stories lately about coal-fired power plants. That's because—with federal regulations kicking in to protect public health—today marks the end of the operating permits for a number of coal plants in Michigan, including Consumers Energy's oldest generating units, sometimes charitably described as the "Classic Seven."
It's good news that these coal plants are retiring—good for our health, good for our climate and good for our pocketbooks. In 2008, when Michigan enacted clean energy laws, 66 percent of our electricity came from coal. Thanks to those laws, coal now supplies less than half our electricity. With a continued, steady increase in affordable renewable power and energy efficiency, we can shrink coal's slice of the energy pie to 35 percent by 2020.
Unfortunately, even as they retire their oldest power plants, our large, investor-owned electric utilities are still clinging to dirty coal. DTE Energy, for example, still generates over 70 percent of its electricity from coal and continues to spend millions of dollars a year to keep old plants operating, heaping the costs onto Michigan families.
And sadly, our Legislature is doing nothing to protect Michigan residents from skyrocketing energy bills or the public health impacts of dirty coal plants.
While bills to continue Michigan's transition to cleaner energy remain tied up in committees, lawmakers are moving forward with legislation that would continue to provide state-funded tax subsidies for coal-fired power plants. House Bill 5401, currently moving through that chamber, streamlines the process for utilities to receive exemptions from sales and property tax for the pollution control equipment they install on old coal plants. The companies install that equipment not to be good neighbors, but because federal law requires them to. These tax loopholes save them millions of dollars a year, at the expense of local taxpayers.
These tax credits amount to a state subsidy for coal, and they're holding back Michigan's transition to clean energy. It makes no sense to prop up outdated coal plants when pollution-free alternatives exist in the form of renewable energy sources.
Even with pollution control equipment installed, these facilities continue to emit air and water pollution that results in hundreds of millions of dollars in health care costs and damages annually for Michigan residents. Our asthma rate is 25 percent above the national average. Among states we have the sixth-highest percentage of residents with cardiovascular disease, and we're 17th in the incidence of lung cancer. Pollution from old coal plants is responsible for more than 100 premature deaths a year of Michigan residents. But utilities pay none of the health costs of their pollution.
Here's the double-whammy: At the same time these coal plants burden nearby residents with health problems, the tax exemptions they receive erode the tax base in the communities where they're located. Across the state these subsidies add up to more than $100 million a year in lost revenue. In contrast, most new renewable energy facilities are located in rural and suburban communities, where they pay their full property tax bills and strengthen local economies. Eliminating the tax exemptions for coal plants would significantly increase local tax revenues, which could be invested in newer, safer infrastructure or programs designed to address the public health impacts of pollution from burning coal.
Today's coal plant retirements are an important milestone in Michigan's transition to clean, homegrown energy. We're happy to see imported coal playing a shrinking role in our energy system. Unfortunately, we still have state policies that encourage our utilities to hang on to dirty, dangerous 19th century fuel instead of using 21st century wind turbines and solar panels to harness free, clean and abundant energy sources.
It is time for the Snyder administration and the Legislature to step up and protect Michigan families.
###
Photo of DTE Energy's Belle River power plant courtesy Tom via Flickr.