Sustainable Spirits!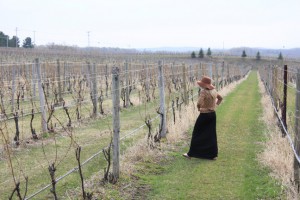 At the Michigan Environmental Council we're willing to do just about anything to help the environment. And if that means drinking a locally crafted beer or glass of Michigan wine, then so be it!
This Friday in Lansing we're inviting you to a celebration of local beer, wine and spirits at our Green Drinks Lansing event. Admission is free, it's informal, and there is a trio of fascinating experts lined up to share their wisdom. (More details below).
One thing I really appreciate about MEC is that when we host an event or meeting, local food, drinks and vegetarian options are all taken into consideration. Environmentally friendly and socially responsible vendors are always the first choice and often are a requirement. I appreciate that. It's walking the talk. What's more, it really does make any event better, creates a sense of shared camaraderie in local choices, and helps support Michigan's economy. Win-win-win.
Plus, let's be honest – most environmentalists are craft beer snobs. And with good reason.
Michigan ranks 5th in the nation in number of breweries.  The amount of craft beer sold in the state has doubled in the past seven years, according to the Michigan Brewers Guild. Combining good craftsmanship with a green ethos helps Michigan's economy. Hops growth in our state is increasing steadily. Recent hop shortages in the northeast and out west, the growing appeal of craft beers, and the yearning for organic and locally sourced products have all set the stage for an exploding interest in local hop production.
Cheers to that!
On the subject of Michigan wine, environmentally-friendly grape growing practices in the state are the rule rather than the exception.
What's more, according to the Michigan Grape and Wine Industry Council, Michigan ranks in the top four states in the U.S. in wine grape production and within the top nine in wine production. Michigan wine sales in Michigan have increased 150 percent over the past nine years.
Do you like a good Riesling or Pinot Noir? We're basically experts here in those. Haven't tried many Michigan wines? I encourage you to (if you're over 21 of course). There are styles from bone dry to fruity sweet, and Michigan specializes in fancy things like ice wines, fruit wines and late harvest wines. Plus if you get a chance to head to a Michigan winery or tasting room, you generally get five free tastes and expert advice on what to taste from the staff (sometimes it's even the winery owner themselves). How cool is that?
And you know what? Those winery owners love Michigan. And care about the environment. Their business depends on stable climatic conditions; clean air, water and land; and a robust economy and quality of life that make customers Michigan-proud.
The industry is also an economic engine. Each year, Michigan's wine, grapes, grape juice products and related industries produce nearly $790 million of total economic value to the State of Michigan; pay more than $42 million in state and local taxes in Michigan, and account for more than 5,000 jobs across the state.
And if you've ever been wine tasting in Traverse City on the peninsulas or in Southwest Michigan, you know. You get it. It's amazing. It's feeling and tasting a real connection to the farming heritage of our state. I get a weird sense of pride when I drink Michigan wine. Is that geeky? Sure. But sometimes geeks can be chic, right?
This brings be back to my original point. Environmentalists appreciate local beer and wine. If any of this buzz worthy info tantalized your taste buds, you may like an event we are hosting this week on Friday. Here's the pitch:
Come learn more about how Michigan beer, wine and spirits fit into the future of Michigan's growing economy, farming sector, and sustainability movement at the May edition of Green Drinks Lansing. 
Green Drinks Lansing will be at Taps 25 (414 E. Michigan Avenue, downtown Lansing) on Friday May 4th from 6:00 to 7:30PM. It's hosted by the Michigan Environmental Council, Greater Lansing Area Clean Cities and Capital Gains Media as part of their Speaker Series events. 
Join us for libations and a lively panel discussion featuring top-notch experts in the Michigan microbrewery, wine, and distillery industry. Come meet new people, learn new things, and join the conversation. 
We are very pleased to have three expert panelists featured at this event: 
Dr. Kris Berglund: Michigan State University, Distinguished Professor of Chemical Engineering & Food Science, expert in distilled beverage technology
Kris Spaulding: Sustainability Director, Brewery Vivant in Grand Rapids
Brian Rasdale: Owner, Bad Brewing Company in downtown Mason
What's Green Drinks Lansing?
It's a cool platform for ideas to spark, discussions to develop, and people to learn new ways to move Michigan forward. The event is held on the first Friday of each month. The location and theme changes each time, and we generally host a three-person panel from different backgrounds discussing the topic for about 20 minutes, followed by about an hour of break-out discussions, networking, mingling and cocktailing.
For more info, contact Allie Muchmore: [email protected] and check out our Twitter hashtag #GreenDrinksLansing
 (Research for this post was provided by MEC intern Marco Salomone. Photo by Tremaine Phillips.)
###