With Memorial Day fast approaching, many Michiganders are preparing to re-open cottages on the state's more than 11,000 inland lakes. If you're lucky enough to have a summer place on the water or live lakeside year-round, the way you landscape and manage your property can have a big impact on water quality and lake-dwelling wildlife.
Enter the Michigan Shoreland Stewards program. Launched last year by the Michigan Natural Shoreline Partnership, the program recognizes property owners who are using healthy property management practices to protect their inland lake and recommends steps they can take to further improve shoreline health.
"Our goal is to not only educate people about the issues our inland lakes are facing, but to give them some easy ways to work toward protecting their lake," says Eli Baker, education and outreach specialist with Tip of the Mitt Watershed Council, a Petoskey-based member group of MEC and of the shoreline partnership.
When it comes to the life of an inland lake, the real action is near the shoreline. Bass, bluegills and other popular game fish species spawn in the shallows, as do frogs, toads and salamanders. Mayflies burrow into the nearshore sediment. Ducks, loons and other water birds make their nests on the banks. Minks and raccoons stalk the shoreline for a meal.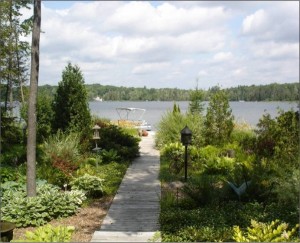 Along with providing important habitat for fish and wildlife, natural shorelines also filter out excess nutrients, keep the water cool by providing shade and stabilize banks by minimizing erosion from waves and ice.
Unfortunately, the shorelines of Michigan's inland lakes are threatened by development. Property owners are replacing more and more of this important habitat with seawalls, turfgrass lawns and impervious surfaces like driveways and buildings.
Ten years ago the U.S. Environmental Protection Agency conducted its first-ever National Lakes Assessment. Working with the state Department of Environmental Quality, the EPA found that 40 percent of Michigan lakes had poor shoreline habitat and loss of that habitat was the biggest stressor on the health of our inland lakes. Read more