Seven agriculture-heavy Michigan counties are among the nation's most likely to be impacted by the loss of native pollinators, according to the first study to map wild bees in the United States.
Both honeybees and wild pollinator populations are shrinking, a trend that's been linked to habitat loss, parasites, pathogens, pesticide exposure, climate change and other factors. A global assessment of pollinators published last February found a growing number of them threatened with extinction.
Scientists say more than $3 billion of the country's agriculture economy depends on the free services provided by native pollinators, including more than 4,000 species of wild bees. That's on top of the $15 billion impact from European honeybees raised to pollinate crops and produce honey.
The study, led by the University of Vermont with contributions from Michigan State and other universities, paired expert knowledge with models of land-cover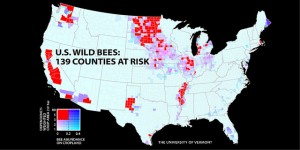 change to estimate that wild bee abundance in the contiguous U.S. decreased by 23 percent from 2008 to 2013. The results also show that 39 percent of croplands that depend on pollinators face a widening gap between the demand for pollination and the supply of wild bees, suggesting that successful future harvests in those areas may depend more and more on managed honeybees.
"The shortfall is most dramatic in areas that focus on specialty crops like apples and berries, which are especially reliant on pollinators," the Christian Science Monitor reported. That's particularly worrisome news for Michigan growers, who produce the country's second-most diverse array of food, including many pollinator-dependent specialty crops. Read more