Clean Energy Roadshow a tangible tour of Michigan's progress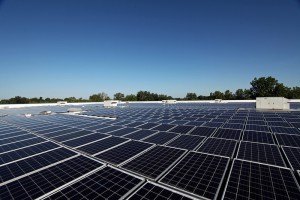 The founders of MiGrid asked me a few months back to come on their inaugural "Michigan Clean Energy Roadshow," a week-long road trip to 25-plus clean energy installations across Michigan.
The point of the Roadshow was to capture images and tell the story of clean energy systems and advocates in Michigan. Since I love Michigan, I love clean energy, and I think one of the MiGrid guys is really cute – of course I said yes! So I packed up and hit the road with the MiGrid team this past weekend. Here are my trip highlights, from a Michigan girl's point of view:
The sparkly sunrise on Leelanau Peninsula re-affirmed everything I love and adore about northern Michigan. I was in Allie zen on that drive.
Skip Pruss, co-founder of 5 Lakes Energy and former Director of the Michigan Department of Energy, Labor & Economic Growth, who we met in Northport, reminded me that Michigan has all the assets it needs — advanced manufacturing, innovative people and world-class companies and universities – to be a critical player in the clean energy economy.
We visited the Northport Energy Action Taskforce (NEAT) to see their community wind project at the Leelanau Township water treatment facility. The turbine, which was recycled and reused from a project in California , will supply power to the water treatment facility as well as net$35,000/year to the local government after the system pays for itself. Legit.
Jim MacInnes, CEO of Crystal Mountain Resort and Spa rode his bike from Traverse City to Suttons Bay on the TART Trail to chat with the MiGrid team about the environmentally sustainable efforts of the resort and spa in Suttons Bay.
Several sustainability related projects that you must check out soon at Crystal Mountain include the new LEED Certified spa and a Placemaking Art Park. We are fortunate to have innovative and eco-conscious business owners like Jim helping to keep create and sustain a very Pure Michigan.
One of the highlights of the trip was the Stony Creek Heritage Wind Farm in McBain. We randomly ran into a nearby land owner who told us how much she loves living by the and how mesmerizing they are. After being around them, I completely agree.
Ludington is beautiful. The Lake Winds Energy Park near Ludington is even more beautiful. It's nestled between orchard farmed lands and scenic green rolling hills. Some of the turbines are still being built, so go see it if you are in the area. We watched the sunrise there over the turbines. It was amazing.
In Muskegon, we got to go up a construction lift to the roof of Torrensen Marine and see one of the largest solar arrays in Michigan. I've never been that close to a solar array of such scale, and it was awesome. So serene , stately and silent.
The developer, Rob Rafson, told us that he moved to Michigan once he started working on this development, which spun-off 30 construction jobs in Muskegon, and he hasn't left since. Michigan stole his heart too.
My conclusion: Clean energy is transforming Michigan. At the end of this whirlwind tour, I couldn't help but notice a huge disconnect between policy professionals and those on the ground creating a renewable energy future and economy. These renewable projects are direct results from the 2008 renewable energy standard (RES), legislation that requires our utilities generate 10 percent of their electricity from renewable sources by 2015. We heard this repeatedly as we met with people involved with, or living near each development.
The RES standard has been so successful this far, that it's time to continue to move forward with clean energy and plan ahead even more. Because planning for our energy future, we are looking out over the next 40-60 years. That's how long a new coal plant, a new nuclear reactor, or a new wind farm will last. We need to plan for the future, not keep relying archaic technologies from the past.
This brings me to the 25×25 ballot proposal that will appear on the November ballot. The proposal is to bring the renewable energy standard to 25 percent by 2025. This is a bipartisan effort for the state, and one we cannot afford to pass up.
In the policy world we are really good at arguing over percentages and job years but when we take a step back, we can see the real jobs and hopes the passage of the 2008 RPS law has created in Michigan. I hope we can all come closer to being on the same page. These are real people who just want to better their communities and Michigan for the future.
The top 3 reasons I support the 25×25 ballot proposal:
Jobs
MSU economic researchers released a study showing passage of the 25×25 measure will create least 74,000 jobs (reported as jobs years, you can read the study for clarification) and generate $10.3 billion in new investments. These are good paying Michigan jobs that can't be outsourced.
Healthcare
Clean, renewable energy spurred by the 25×25 initiative will help Michigan move away from old, polluting coal-fired plants that harm public health. By transitioning away from coal plants, we have the opportunity to seriously reduce the $1.5 billion in annual cost to Michiganders for health care expenses and damages caused by coal plants.
A report commissioned by the Michigan Environmental Council found that the state's nine oldest coal plants cost the average family of four over $500 per year in healthcare expenses and damages including increased hospital admissions, treatments for asthma, serious cardiovascular or respiratory conditions and premature death.
Ratepayer Protection
Building a new coal plant would cost $58 per megawatt/hour (MWh) MORE than renewable energy. This is according to reporting from the Michigan Public Service Commission, the non-partisan, regulatory agency for public energy, communication and transportation services, not any campaign or special interest groups
Not a lump of coal is mined in Michigan, and we rely on it for 60 percent of our electricity generation. All that coal comes from coal has to come from other states. We spend about $1.5 billion annually to buy it – money that leaves our economy permanently.
Renewable energy is cheaper than building a new coal plant. The money stays in our state, and goes to Michiganders who build, sell and maintain Michigan-grown energy systems.
To protect energy consumers and businesses in Michigan, the 25×25 ballot proposal plainly states that utilities can't raise electricity prices related to the cost of generating renewable energy by more than 1% in any year. For the average Michigan household, that's less than $1.25 a month. That guarantees ratepayer protection from unreasonable rate increases.
In order to keep Michigan Pure, and in order to be even better, safer, stronger, and more prosperous, the movement towards a clean energy economy is essential. Better clean energy policies like the 25×25 ballot proposal will support small business and manufacturing growth in Michigan, creating jobs across several sectors. These policies have the ability to put the state near the top as one of the most advanced in the clean energy sector.
After participating in the Michigan Clean Energy Roadshow, there is no doubt in my mind that renewable energy and Pure Michigan go hand and hand. Renewable energy is Pure Michigan.
Allie Muchmore is Special Projects Associate with the Michigan Environmental Council.
 ###