Tug of war: Senate approves trails package while House panel cuts funding for—you guessed it—trails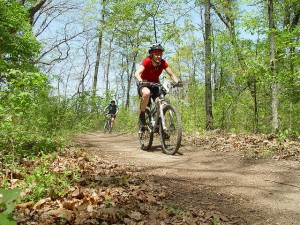 The Senate today approved a package of bills to establish a Pure Michigan Trail Network - an encouraging sign that state lawmakers recognize the important role world-class trails and other outdoor recreation assets can play in growing local economies and enhancing quality of life.
The Senate package allows the director of the Department of Natural Resources to give trails and towns the Pure Michigan designation upon recommendation from the Natural Resources Commission. It also gives a nod to our state's outstanding paddling by allowing the director to designate Pure Michigan Water Trails.  The bills also would change the Snowmobile and Trailways Advisory Council to the Trails Advisory Council.
"This package will bring the entire Michigan trails system into the spotlight," said Nancy Krupiarz, executive director of the Michigan Trails and Greenways Alliance. "We have an incredible array of trails of all types, and we want to recognize them all and the towns that embrace them."
The legislation makes place-based investments in outdoor assets a centerpiece of Michigan's reinvention strategy, said Brad Garmon, MEC's director of conservation and emerging issues. It also celebrates best-in-class trails that showcase Michigan's natural beauty and cultural sites, rather than slapping the Pure Michigan label on lower-profile trails that serve an important practical purpose but don't reinforce the Pure Michigan brand.
"It moves trails beyond just being seen as nice amenities and makes them part of community development and reinvention – specifically the Pure Michigan Trail Town designation, which recognizes places that integrate the outdoors and a high-quality, high-amenity recreational lifestyle into their planning and economic development efforts," Garmon said.
Meanwhile, a House panel is working to strip trail funding from Gov. Snyder's proposed 2015 DNR budget, jeopardizing his vision of Michigan as the Trail State.
The House Appropriations DNR subcommittee recently approved a bill that cuts $2.5 million in general fund support for trail programs from Snyder's proposal, including funding for the governor's proposed signature trail from Belle Isle to Ironwood. The panel also axed $1 million for on-the-ground conservation work and $2.6 million for state park repair and maintenance, among other cuts.
"We need that funding back in there if we're going to make progress on the state Comprehensive Trails Plan and trails initiatives at all levels and be able to move forward," Krupiarz said. "The Snyder administration and the Senate have recognized that, but we need the House to do so also."
Putting trails and conservation on the chopping block casts obvious doubt on whether Pure Michigan is more than a slogan to members of the House panel. But Garmon said the Senate package—while promising overall—also raises questions about whether its proponents are committed to the Trail State concept or simply paying it lip service.
For instance, the bills would require towns to shell out the cash for "Pure Michigan Trail Town" signs – a miserly move for the would-be Trail State.
Likewise, while the advisory council's name change is an encouraging nod to the need to embrace non-motorized trail users, the makeup of the council doesn't reflect that shift. The proposal requires the 11-member advisory body to include at least five ORV owners and three snowmobile owners.
That motorized focus ignores studies showing that today's young professionals are looking for places where outdoor recreation is interwoven with their daily life.
"That means more chances to go for a run on a recreational trail close to home, maybe even in their neighborhood or nearby," Garmon said. "Those are the trails that will help reshape Michigan into a true trails state. And those trails will look and be managed very differently than this council is set up to handle."
Getting the details right is important because a good variety of well-maintained trails that highlight Michigan's most beautiful places can be a huge asset for the state's future, Garmon added.
"These will become places that make someone who was considering moving to Colorado take a second look at staying in Michigan," he said.
###
Top image: mountain biking at Fort Custer State Recreation Area. Courtesy battlecreekcvb via Flickr.
Bottom image: snowshoeing Black River in Gogebic County. Courtesy huronbikes via Flickr.