Author challenges environmental groups to reimagine black relationship with nature
There's plenty of evidence that American popular culture takes an off-kilter view of who cares about the environment and belongs in the outdoors. On the first night of MEC's recent annual meeting in northern Michigan, members gathered around a stone fireplace in a cozy riverside lodge surrounded by woods to explore that concept with geographer and author Carolyn Finney.
During Finney's informal evening discussion and reading, she shared selections from her new book, "Black Faces, White Spaces: Reimagining the Relationship of African Americans to the Great Outdoors." She also read from "Ode to New York: A Performance Piece," which she wrote in answer to the question, "How is nature critical to a 21st century urban ethic?" It reads, in part:
We, the human animal, are one of the faces of nature and the city is our home place where we get to build, experiment, blend and grow…Get down, put your ear on the ground. Together with the sound of the subway and cars and footsteps of hundreds of people marching in tune to their faith and their hope, you can hear the soil, the water, the roots of the trees, the insects, the plants, the energy bursting forth, connecting us to ourselves and the places in which we live.
The lodge itself—tucked out of the way in the heart of the Manistee National Forest—provided the perfect setting for the open, intense and challenging discussion that followed. It's a haven for fly fishers and kayakers, and a good jumping-off point for other Pure Michigan adventures like backpacking, trail running and birdwatching.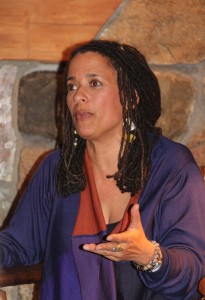 Such natural places, Finney suggests, are too commonly seen as a "white" domain. In reality, African Americans have their own long history of connection to natural places, such as Idlewild, the black resort just down the road from the lodge. The black experience of nature, and the American legacy of racism and exclusion that long defined it, provides groups like MEC with fertile ground to broaden the conversation about where nature is found and who cherishes it—and by extension, what voices are valued in the environmental movement itself.
"We talk about changing our relationship to nature," Finney said, "but first we need to change our relationship to each other."
The Boston Globe captured the  essence of "Black Faces, White Spaces" succinctly: The connection between African Americans and the natural world "is rich, but also distinct and fraught—rooted in a history of racial violence and exclusion that sharply limited black engagement with nature," according to the Globe. "Those barriers, Finney writes, would come to shape our most basic perceptions about who cherishes nature and who belongs in it."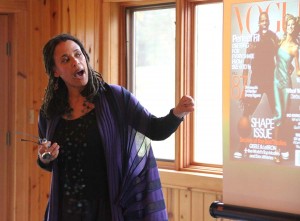 In the research for her book, Finney surveyed images from 44 issues of Outside magazine spanning a decade. Of 4,602 pictures with people in them, only 103 featured African Americans. Most of them were in advertisements depicting famous athletes in urban settings.
Finney, who also serves on an advisory board to help the National Park Service engage in "relationships of reciprocity with diverse communities," says such underrepresentation helps feed a lack of participation in outdoor activities. A 2011 survey commissioned by the NPS found that just seven percent of park visitors were black, and a study earlier this year found participation in outdoor activities was lowest among African Americans.
Those numbers don't reflect a lack interest or passion, Finney argues. "We don't see black and Latino people at the [national] parks. That doesn't mean black people don't have a relationship with the environment," she said in a recent interview with Tavis Smiley.
Similar trends plague the environmental movement, which has a demonstrated lack of diversity in its leadership positions, and in the level of knowledge about black environmentalists and their contributions to the movement. Finney's keynote lunch presentation featured several black environmentalists with fascinating stories and impressive accomplishments, but almost no one in the room had heard of them. John Francis, for example, spent 22 years walking across America—17 of them without speaking—to draw attention to the environmental costs of oil dependence, and helped author federal regulations for oil spill cleanups. MaVynee Betsch lived on and fought to protect American Beach, a Jim Crow-era vacation spot in Florida, and gave away her fortune to environmental causes.
Another amazing but little-known story was closer to home. Finney and a vanload of meeting participants made the short drive to Idlewild, which was known as America's "Black Eden" during the first half of the 20th century, when blacks were excluded from other recreational resorts. (The 1964 Civil Rights Act desegregated previously all-white vacation spots and led to Idlewild's decline.)
For a time Idlewild was the most popular resort in the Midwest, hosting as many as 25,000 summertime residents and visitors, who enjoyed outdoor activities like swimming, horseback riding and fishing. At night they were entertained by A-list performers like Louis Armstrong, Duke Ellington, Etta James and Aretha Franklin.
"This is a serious story," said Finney, for whom such historical context is fundamental to understanding the underrepresentation of African Americans in the environmental movement and in popular images of outdoor recreation.
Finney was particularly struck by the town's street names: Joy, Patience, Kindness, Unity. "My favorite is Righteous Road," she said. "There's a spirit there you can really feel." The positive, uplifting spirit behind those street names is important, she says, because it shows that, during an era of racism, segregation and fear, Idlewild was a place where blacks felt safe to shape the landscape with their own values and ideals.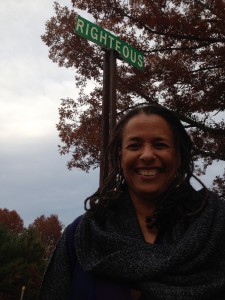 That idea of creating a place where African Americans don't just feel invited to an "environmental table" but are provided significant spaces and opportunities to define and shape unique concepts of nature and environmentalism is fundamental to the future of our work. To increase diversity in the environmental movement, Finney says, organizations will have to acknowledge America's complicated racial history and respect its influence on how people experience the world.
"Carolyn Finney's reading and presentation made me realize that, even though Detroit is predominantly a city of color, the issue of race around the environment is still of concern for our work there," said Sandra Turner-Handy, MEC's community outreach director, who lives and works in Detroit. "I hope her insights help us in the environmental community to open up and truly work together with diverse partners who see things differently, rather than trying to put a diverse surface on the same old way of thinking."
-By Andy McGlashen and Brad Garmon
###