Curbside collaboration: Help us put recycling within reach for Detroit families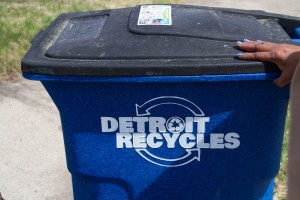 For years, Detroit was the largest city in the country without a curbside recycling program. That dubious distinction ended last year when a curbside pilot program for single-family homes expanded citywide.
Still, the city's recycling potential remains largely untapped. That's in part a problem of awareness—the program is fairly new and not everyone knows it's available—but it's also a problem of access. Households that want to participate in curbside recycling must first pay $25 for a 64-gallon cart—a significant barrier for many Detroit residents.
And that's where you come in.
MEC and our partners with the Zero Waste Detroit coalition (ZWD) today launched a project that lets individuals, businesses and other organizations donate $25 or more to help city residents take part in the curbside program.
Please take a moment today to support this effort. It's simple: Visit the donation website, select an amount and make your contribution by credit card or via PayPal.* MEC and ZWD will work with the city and its waste-hauling contractors to purchase and distribute the carts to households that have indicated a desire to recycle and a need for assistance to pay the fee. Every penny you give will go directly toward the purchase of a recycling cart.
"Twenty-five dollars might not sound like much, but a lot of folks in the city are struggling to make ends meet, and anything non-essential just doesn't make it into the monthly budget," said Sandra Turner-Handy, MEC community engagement director and a lifelong Detroiter in a press release we issued today. "This program allows anyone to play a role in Detroit's transformation and re-energize residents to take part in their hometown's rebirth as a thriving, sustainable city."
Recycling, of course, helps to conserve natural resources. It's also a big energy saver; recycling aluminum cans saves 95 percent of the energy needed to make cans from virgin bauxite ore. It's a good practice for all communities, but Detroit in particular has a lot to gain from increasing participation in the curbside program.
Reclaiming reusable materials through the curbside recycling program diverts that material away from trash incineration. Detroit is home to one of the country's largest waste incinerators, and it's a major source of air pollution and foul odors. As ZWD Community Outreach Coordinator Ahmina Maxey wrote in a January letter to the editor of the New York Times, "The facility's emissions contribute to Detroit's poor air quality and high asthma death rates, about twice the state average. If the real human and environmental costs of incineration were taken into account, incineration costs would far exceed those of recycling."
There's also evidence that increasing participation in the curbside program could help create employment opportunities for city residents and others. According to a report from the Michigan Recycling Coalition, recycling creates four jobs for every waste disposal job that would be created if the material weren't recycled.
Please take a moment to help unlock Detroit's recycling potential by making a contribution today. Your one-time gift will renew its value each time the recycling truck comes around and will help establish recycling as a mainstay of the culture of resilience that is transforming Motown into a model green city.
Thank you!
###
*If you prefer, you can also donate with a check. Please write "Recycling cart" in the memo line, make the check out to Michigan Environmental Council and mail it to:
Michigan Environmental Council
602 W. Ionia St.
Lansing, MI 48933