GM, Schupan partner to turn Flint water bottles into coats, car parts and more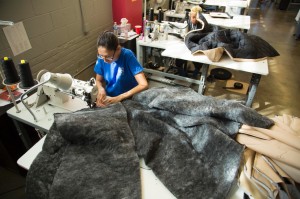 Environmentalists have never liked plastic water bottles much, but they became indispensable for Flint families during the city's water crisis.
Although the federal government declared in June that filtered Flint tap water was safe for children, pregnant women and nursing mothers to drink, the Detroit Free Press reported in July that, "More than two years after issues first surfaced with Flint's drinking water, many residents have no plans to switch from the bottled water upon which they've come to depend for their daily needs and say they don't trust filters." At the height of the water crisis, a CNN reporter found that one Flint family of three used 151 bottles of water per day.
Now General Motors, Schupan Recycling and other partners are stepping in to make the best of a bad situation. GM announced in August it has collected more than 2 million water bottles from Flint and is feeding them into its Do Your Part program that turns empty plastic containers from five of the company's Michigan facilities into useful products.
"Even though there's a very, very challenging situation in Flint, there's also an opportunity to make things better, put a smile on people's faces and develop collaborative efforts in the community," says John Bradburn, GM global manager of waste reduction and a Flint native.
Schupan Recycling has trailers for collecting empty bottles at the State of Michigan's central water distribution facility in Flint. The company sorts and bales the material at its Wixom facility. Clean Tech, in Dundee, washes the plastic and processes it into flakes.
Additional links in the supply chain convert those flakes into fleece, which is then used to make noise-reducing fabric insulation that covers the Chevrolet Equinox engine, components for air filtration systems at GM body and painting plants, and insulation in specially designed coats for homeless people.
The water-resistant coats convert to a sleeping bag and can be worn as an over-the-shoulder bag when not in use. Each coat's insulation—cut to size by the Detroit-based workwear company Carhartt—contains plastic from 31 water bottles.
They're a product of The Empowerment Plan, a Detroit-based nonprofit that not only provides warmth in winter for people without a roof over their head, but also trains homeless single parents to manufacture the coats, providing families with a stable income that helps them get back on their feet.
"We're committed to proving to employers that formerly homeless people can be a skilled talent pool," says Veronika Scott, founder and CEO of The Empowerment Plan. "The end product is more than a coat: It empowers women to take control of their lives and provides the path to long-term, sustainable jobs."
Similarly, the nonprofit N.E.W. Life Center provides job training for at-risk women in Flint, including a partnership to produce the fleece air filtration panels for GM plants.
"Obviously we're a global company, but we remember our roots," says Bradburn. "We remain active in the communities where we do business, and Flint is one of them."
Schupan is likewise committed to Flint, says Kendra Townsend, manager of marketing and communications, who noted that the company provided recycling services at this year's Crim Festival of Races, the first time the Flint event has had a coordinated recycling program.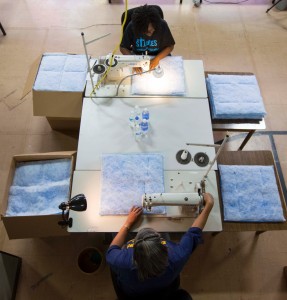 "We're not doing this for the recognition or the money involved," says Townsend. "There isn't much of either. This is the right thing to do. We don't want all these plastics to end up in landfills."
All Michiganders are pulling for Flint and hoping the stream of empty bottles from the city soon dwindles to a trickle as more lead pipes are replaced and water quality improves. Meanwhile, Bradburn notes that more and more GM employees are choosing reusable containers instead of disposable bottles—a trend he encourages. But for now there is no shortage of plastic bottles, and it's far better to reclaim them as raw material than send them to the trash heap.
"This is a demonstration of how a big company like ours can partner with small companies, nonprofits, community-based faith organizations and others to help the economy and the community grow stronger and more resilient," Bradburn says.
###
Photos courtesy General Motors.
Top: Seamstress Jessica West sews insulation into coats at The Empowerment Plan in Detroit, where GM is donating enough insulation to make 6,500 free coats that transform into sleeping bags.
Middle: A coat/sleeping bag produced by The Empowerment Plan.
Bottom: Seamstresses Tameka Davis and Dorothea Guice sew air filter panels at the N.E.W. Life Center for GM supplier Filtration Services Group in Flint.