One if By Land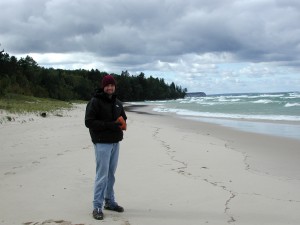 The Legislative Ground Assault on Pure Michigan
So much of what makes Pure Michigan so pure starts with our land—the miles of forests, the majestic dunes, the undeveloped trout streams and backcountry trails.  Without the incredible Great Lakes landscapes that define us, we'd just be another Indiana, Ohio or Missouri.
Unfortunately, the Michigan legislature is mounting an all-out blitz to undermine those land resources by gutting and dismantling the very programs that protect and improve them. And because land use issues are generally pretty complicated affairs, it's a stealth assault that doesn't garner headlines.
So, here's a quick rundown on a few of the most alarming new attacks:
1.  The State Land Cap
If you look at a map of public lands in the state, it's clear there's lots more state-owned (e.g. accessible to you and me) forests, river corridors and recreational areas in the northern half of the state. That's partly why we call it Up North.
But Senator Tom Casperson and some of his allies in the legislature have decided that the North Country has enough land. To stop the state from buying more, their plan is that the rest of us should do without. They are successfully pushing Senate Bill 248 to put a cap on the total amount of land the state can own. That upper limit—you guessed it—would only be slightly higher the amount of land the state already owns today.
That means if the state has the chance to buy some new acres of pristine Lake Michigan beachfront, add space to a crowded Southeast Michigan state park, or acquire some new recreational land near Grand Rapids, it would first have to sell some forests or recreational land Up North.
And despite what Casperson and his buddies seem to think, most northern folks we talk to aren't all too eager to give up their wild places so that downstaters can have more public land close to home. Which means the rest of us trolls would just have to keep filling our gas tanks and trekking to Casperson Country if we want to play in Pure Michigan.
Want to take action?  The bill has passed the Senate so attention shifts to the House. Call Representative Frank Foster (Chair of the Natural Resources committee, 517-373-2629) and your own representative. Ask them to support public land in all of Michigan by voting no on SB 248, the land cap bill. You might also call Senator Tom Casperson, (517) 373-7840 and ask him to please stop attacking public land opportunities and responsible land management throughout Michigan.
2. The Michigan Natural Resources Trust Fund
In the more than 35-year history of the voter-approved, wildly popular, and constitutionally protected Michigan Natural Resources Trust Fund , the legislature virtually never circumvents the process and removes whole projects or messes with the list of conservation and land protection projects advanced to them by the Trust Fund Board.
Until now. This time, a small group of senators has passed a version of the appropriations bill that strips out four Trust Fund-recommended DNR projects.
This is unprecedented. It threatens the program and undermines practices that have kept the Trust Fund largely free of local "pork" politics for all these years. Without trust in the decision-making process of the Trust Fund, the source of revenue that has secured many of our most popular Pure Michigan destinations would quickly be gobbled up by other interests.
You can read more about this issue at the Michigan Recreation and Parks Association website. They're as worried about the precedent and threat posed by this bill as we are.
Want to take action? The appropriations bill, HB 5364, has passed both the House and Senate, but the senate version removed four DNR projects to the tune of $3.6 million. Call or email your legislator, House Speaker Jase Bolger (517-373-1787, [email protected]) and the governor's office (517-373-3400) and ask them to protect the integrity of the Natural Resources Trust Fund program by rejecting the Senate-passed version of the appropriations bill.
3.  Michigan's Majestic Sand Dunes
Michigan's freshwater sand dunes are Pure Michigan at its best—they're the reason Good Morning America named Sleeping Bear Dunes the most beautiful place in America in 2011.
Recognizing this decades ago, Governor William Milliken and later Governor James Blanchard helped the state establish our Critical Dunes Act. It recognizes the freshwater dunes—mostly found along Lake Michigan on the western Lower Peninsula and the southern shore of the UP—as globally rare and in particular need of additional protection from harmful development.
Michigan set up a permitting process to ensure that development and activity in the dunes are carefully reviewed in order to ensure the natural migration and shifting of sand and protection for rare flora and fauna.
Now, the Michigan Association of Realtors and the Homebuilders Association have found some allies at the Capitol to help them gut this act. Proposed legislation removes references to the "public interest" in protecting these areas or minimizing harmful impacts. It adds convoluted new language making  it much easier for developers to permanently alter the shifting dunes with roads, driveways and houses. The plan makes it more difficult for local residents or resource experts to have a say in their fate.
Want to take action? Call your own representative and senator and ask them to be a protector of Michigan's rare sand dunes. Suggest that they be on guard against and vote against any bills that weaken the state's Critical Dunes program.
4.  Wetlands
Michigan's wetlands are integral to protection of water quality and to minimize flooding. They are the biological "kidneys" for the world's greatest freshwater ecosystem – our unparalleled Great Lakes.
But they are again under attack by developers, agricultural interests and utilities that want to eliminate key protections.  Their mantra, "But we are allowed to do these activities in other states." Other states are not Michigan.  Fresh water isn't the key to amazing recreational opportunities and the backbone of their tourism industry.   Fresh water doesn't just happen – it is the end result of a healthy ecosystem.
The legislature created a special Wetland Advisory Committee almost two years ago to negotiate Michigan wetland rules. They have methodically been doing that.  Now, a new legislative initiative is undermining their efforts and every special interest is seeing it as an opportunity to dismantle the program.
Want to take action?  Stay tuned. We'll update when specific legislation is introduced.
There are more, but these are the big threats currently on the legislative radar. The only way special interests don't get their way at the Capitol is if residents – voters – make sure elected officials know there will be consequences for bad decisions. Praise, when they do the right thing, also works! Join us in letting them know where you stand on protecting our Pure Michigan resources.
###