State's wildlife council should be broader than hunters and anglers (think, CraneFest!)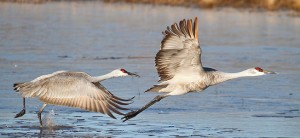 We wrote here a few weeks ago about legislation restructuring Michigan's hunting and fishing license fees to put more conservation officers and wildlife biologists in the field. Governor Snyder signed the measure into law a few days later. The changes take effect in March.
Included in the law is a $1 surcharge on licenses to support public education about how hunters, anglers and trappers contribute to conservation and wildlife management in Michigan.
As Michigan United Conservation Clubs Executive Director Erin McDonough told MLive,
Many people don't understand that most money for natural resource management comes from the sale of hunting and fishing licenses…Everyone can enjoy 'Pure Michigan' because of the investment that Michigan sportsmen and women make. We're proud to provide that legacy for the rest of the state.
That investment is significant. In 2011 license fees created $44.1 million in revenue for conservation in Michigan. The state expects the new fees to generate another $12.8 million in 2014, and close to $20 million more in subsequent years. That's real dough, and provides an opportunity for Michigan to celebrate and promote our amazing natural assets.
Legislation outlining how the state should implement the public-education campaign, House Bill 4993, recently was introduced by Rep. Jon Bumstead, a Newaygo Republican. The bill calls for a nine-member Michigan Wildlife Council to oversee the campaign. The panel must include four hunters and anglers, the owner of a business closely tied to hunting and fishing, and someone representing rural areas of the state whose economies depend on hunting and angling. It also specifies roles for someone representing agriculture, a media or marketing pro, and the DNR director or his designee.
We're enthusiastic about the tremendous hunting and fishing economy in the state, and appreciate hunters and anglers supporting  habitat projects and wildlife management.
But it is a missed opportunity that the "Wildlife Council" doesn't have representation for non-game wildlife interests. Hunting and fishing are huge components of Pure Michigan's brand and our Great Lakes quality of life, but so are a whole range of wildlife-centered activities that don't involve hooks or bullets.
Consider CraneFest.
This weekend's annual Michigan Audubon event celebrates the arrival in Calhoun County of thousands of migrating Sandhill Cranes. For the 19th CraneFest, organizers expect roughly 6,000 people to witness the prehistoric croaks and elegant flight of Michigan's largest bird. The festival is part of the state's $1.2 billion wildlife-viewing industry.
Michigan also is full of elk viewers, mushroom hunters, hikers, campers, paddlers, cyclists and others who care deeply about conservation. It seems like good policy to include on the panel at least one person representing these outdoor pursuits. And while we're at it, we don't think it could hurt for something called the Michigan Wildlife Council to include a wildlife biologist.
Bumstead's proposal—which cleared the House natural resources committee last week—is based on a model established in Colorado in 1998. Here's a video about the Colorado Wildlife Council.
The Michigan Wildlife Council is a good idea, and the Colorado model is for the most part a good one. But a key lesson from the Colorado panel's experience—one highlighted in the above video around the 6:30 mark—is that "what the general public wanted to hear about was very different than what the hunters and anglers wanted the advertising to talk about." The campaign became more effective when it changed to "focus on the shared interests of sportsmen and non-sportsmen."
If Bumstead's proposal or something like it becomes law, we hope the council members heed Colorado's lessons, steer clear of us-versus-them rhetoric and instead embrace "non-sportsmen" as allies in protecting and promoting our shared Michigan outdoor heritage.
###