When we acquired MEC's current home in 2012, we committed as an organization to operating our building in a way that embodies the environmental values at the heart of our mission.
We recently completed the newest project in that effort. Srinergy, a solar project developer from Novi, installed eight solar panels on MEC's south-facing roof, which will generate an estimated 2,839 kilowatt hours (kWh) per year.  That will offset about 11 percent of the electricity used each year in our 5,800-square-foot property, which houses 20 full-time workers (employees and tenants) along with several interns and fellows.  We'll save about $400 a year in avoided electric costs.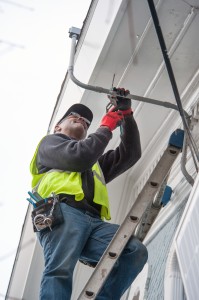 MEC is implementing this project with financial support from the Wege Foundation of Grand Rapids.  In 2013, we invested the first installment of a two-year Wege Foundation grant in an intensive insulation project, state-of-the-art heating and cooling equipment with smart thermostats, and highly efficient plumbing fixtures and toilets.  We've also implemented procedures to reduce and recycle solid waste and emphasize sustainability in all of our purchasing, from office supplies and cleaning products to coffee and electronics. Together, those measures earned us LEED Platinum Certification, the highest level awarded by the U.S. Green Building Council's program for existing buildings.
The solar project will further strengthen our building's environmental performance, as will other upcoming projects. For instance, we're working on providing ample, convenient bike parking on site. We also have plans to reduce stormwater runoff. We'll do that by collecting rainwater in a cistern and by replacing some of our asphalt parking spaces with more porous materials that can absorb and filter rainfall, rather than sending stormwater and pollutants straight to the sewer drain. We'll provide updates on these projects as they develop. Read more